We love Cimiez, and you ?
At Cimiez Boulevard, we love Cimiez for its quality of life, its people, its calm and green environment but also its past full of Art and History. We felt it was important to bring this love to light and share it with you. This is how the desire to create a coat of arms for our district was born: #ILoveCimiez. Take hold of it: this symbol is yours, ours, for all the lovers of Cimiez... 
#ILoveCimiez
Do you like Cimiez ? Let it be known !
Cimiez Guide
Cimiez is rich in emblematic places, witnesses of a prestigious past, full of artistic and architectural references unique in the world, but also vectors of a constantly renewed dynamism and a vision of a radiant future. Here we present some of these emblematic places..
Cimiez's blog
Cimiez.com claims to be Cimiez's blog-magazine. Updated very regularly, this platform, launched 3 years ago, presents the news and events that make the district a place of life and culture like no other. Don't hesitate to visit it to prepare your evenings or weekends with family or friends.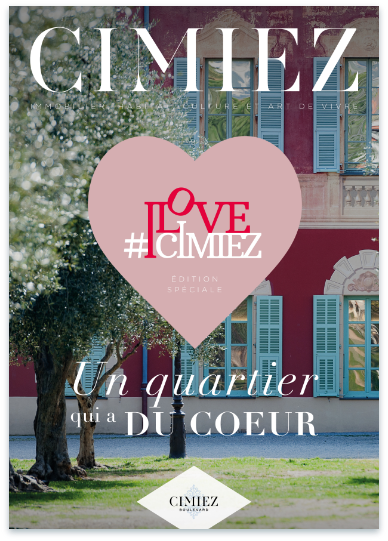 Le magazine CIMIEZ
REAL ESTATE, HOUSING, CULTURE AND LIFESTYLE
It unveils our most beautiful property references to help you realise your real estate projects, but also presents itself as a real messenger and weaver of links between inhabitants. It is through these issues that we would like to tell the story of you, the women and men who make the neighbourhood shine thanks to the actions and initiatives that you undertake, for the good of others, for the good of Cimiez.